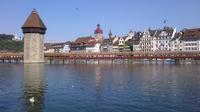 4-hour Lucerne City Tour with Private Guide Including Boat Trip on Lake Lucerne. Spend a half-day in Lucerne with your private tour guide, just you and your guide! Together with your tour guide you will discover the old town of Luzern, the wooden "Chapel bridge", the lion monument and the magnificant churches in the city. Your tourguide will tell you stories about the city and the life in Luzern. Close your tour by travelling with your tourguide on the scenic boat on lake Luzern and enjoy the view to the lake, the city and the surrounding mountains.
Categoría: Tours privados y personalizados.
Inicio en: Lucerne, Switzerland.
Duración: 4 horas.
Precio: 132,21 euros.